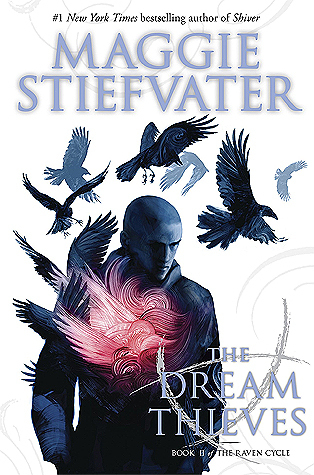 The Dream Thieves (The Raven Cycle #2) by Maggie Stiefvater
Genre: Young Adult | Fantasy | Paranormal
Now that the ley lines around Cabeswater have been woken, nothing for Ronan, Gansey, Blue, and Adam will be the same. Ronan, for one, is falling more and more deeply into his dreams, and his dreams are intruding more and more into waking life. Meanwhile, some very sinister people are looking for some of the same pieces of the Cabeswater puzzle that Gansey is after…
*This review contains spoilers for book one, The Raven Boys. Read at your own risk.
It is no secret that I loved the Raven Boys, and the second installment was even better. I have become completely obsessed with the plot and very single character.
In this book, we got to learn a lot more about Ronan, who is by far one of my favorite characters. The character development in these books are crazy. We learn that Ronan can literally take things out of his dreams, hence the title. This series is so hard to explain.

The Gray Man
At first, when his point of view was introduced I really didn't care. OF course by the end of the story I loved him just as much as any other character. Mr. Gray is a hit man hired by the enemy of our favorite gang. It was so interesting to see the story outside of the eyes of our main characters.
I always find reviewing sequels harder than stand-alones or first books. I find that in my head the storylines blend together and I can't exactly remember where each one ends and begins. As I am writing this review I have already read the third book and I am halfway through the fourth... oops. Like I said I am obsessed. Maggie Stiefvater is easily one of my all time favorite authors. I am in love with her writing style. Everything is so perfectly written, from her descriptions to the dialogue.
I love this story so much. Although the search for Glendower was not as big of a plot point in this book as the first one, I am still eager to see where our band of misfits will go.