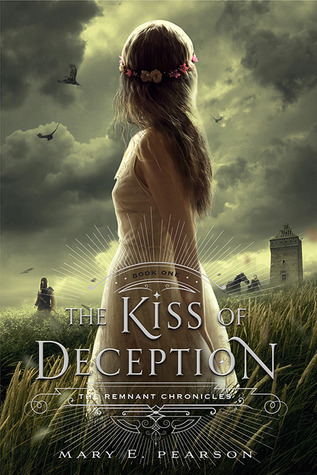 The Kiss of Deception (The Remnant Chronicles #1)
by Mary E. Pearson
Genre: Young Adult | Fantasy
Pages: 492
Source: Purchased
Amazon | Barnes & Noble
Rating:☆☆☆☆☆
A princess must find her place in a reborn world.


She flees on her wedding day.




She steals ancient documents from the Chancellor's secret collection.




She is pursued by bounty hunters sent by her own father.




She is Princess Lia, seventeen, First Daughter of the House of Morrighan.




The Kingdom of Morrighan is steeped in tradition and the stories of a bygone world, but some traditions Lia can't abide. Like having to marry someone she's never met to secure a political alliance.




Fed up and ready for a new life, Lia flees to a distant village on the morning of her wedding. She settles in among the common folk, intrigued when two mysterious and handsome strangers arrive—and unaware that one is the jilted prince and the other an assassin sent to kill her. Deceptions swirl and Lia finds herself on the brink of unlocking perilous secrets—secrets that may unravel her world—even as she feels herself falling in love
What's it about?
In the book, we follow Lia, First Daughter of the House of Morrighan.
1. Being a First Daughter means being special and having an ability
2. Lia does not have any said abilities
She is getting ready for her wedding, which you guessed it, is arranged. Imagine having to marry some nasty prince you had never even seen. Sound fun? She asks her mother to leave her alone for a few minutes, and BAM! She flees with her maid and closest friend Pauline, to a village far away. There, Lia sheds her royal status and becomes a waitress at an Inn. Soon enough, she meets two handsome (and suspicious) strangers who she gets close to. Here's the twist: One of them is the Prince she abandoned at the alter, and the other is the Assassin sent to kill her, and the best part? We have absolutely no clue which is which.
Which Ones Which
The not knowing which boy was who was my favorite part for sure. After the first few encounters, I made my guess and though a few times I was almost sure I was wrong, in the end I was right! Of course I won't be sharing that detail with you!
The author did an incredible job at keeping me on my feet. No matter how hard I tried, it was impossible to be sure until it was finally revealed.
My thoughts...
I thought the writing in this novel was perfect for the story. The plot was a whole new concept for me. I really loved the relationships between all of the characters. I thought Lia was a strong lead and I was screaming feminist cheers when she fled her wedding. Live your life Girl! I totally recommend this book if you are looking for a fresh fantasy with a plot that will keep you turning the pages (even if you SHOULD be asleep because you have school in the morning...)
Even though I waited so long to read this one, I plan on jumping into the sequel really soon!
Have you read this book? Leave your thoughts in the comments below!