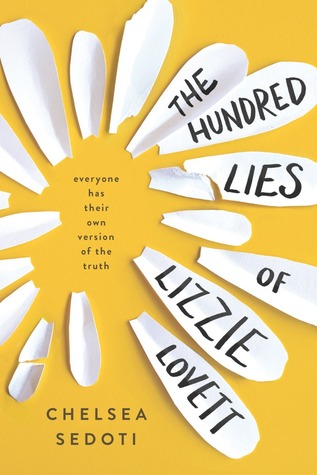 The Hundred Lies of Lizzie Lovett by Chelsea Sedoti
Genre: YA Contemporary
Pages:398
Source: Netgalley
Amazon | Barnes & Noble
My Rating:

☆☆☆☆
A teenage misfit named Hawthorn Creely inserts herself in the investigation of missing person Lizzie Lovett, who disappeared mysteriously while camping with her boyfriend. Hawthorn doesn't mean to interfere, but she has a pretty crazy theory about what happened to Lizzie. In order to prove it, she decides to immerse herself in Lizzie's life. That includes taking her job... and her boyfriend. It's a huge risk — but it's just what Hawthorn needs to find her own place in the world.
* I received a free copy of this book from the publisher via Netgalley in exchange for an honest review. All opinions remain my own.
The Basics
This book was not at all what I was expecting. I didn't love it as much as I thought I would, but I also didn't hate it. We follow a girl named Hawthorn Creely, who had decided the only way to test her theory on what really happened to a local missing girl, Lizzie, is to insert herself into Lizzie's old life. Pretty crazy, I know. There is also the fact that Hawthorn has absolutely hated Lizzie since freshman year. Along the way of her unique story, she learns many life lessons.
Almost every character in the story is realistically flawed. It was interesting to read about people who were not perfect like a lot of other books make them out to be. To me, Hawthorn came off slightly annoying at times, and definitely obsessive. But, I think with the plot of this story, it wasn't that bad. I also felt that I didn't know Hawthorn as much as I wanted to. We don't really get any details about her except what is important to the Lizzie Lovett case, which makes sense.
My biggest problem with the book was Lizzie's relationship with Enzo. to me, they did not go together and the whole thing honestly made me uncomfortable. What really saved the story for me was all the family aspects. I loved the scenes with her family a lot.
My Thoughts
Overall I enjoyed the story. Chelsea Sedoti's writing is very compelling and she still made me want to know how the story would end. I loved most of the characters and the eccentric hippies were such a unique touch to the story.
If you have thoughts on this book, leave them in the comments below. I would love to hear what you all thought.